| | | | | | |
| --- | --- | --- | --- | --- | --- |
| Home | Family | Photos | Sources | Search | E-Mail |
---
Last Modified: August 2012
Created: February 2003
*WILLIAM NATHAN JONES
-- ** --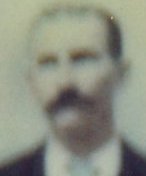 | | |
| --- | --- |
| BORN: | April 4, 1868 in Tiger, Rabun County, Georgia 1 2 3 7 8 12 17 31 |
| DIED: | August 7, 1924 Atlanta, Fulton County, Georgia 1 2 3 17 22 31 |
| BURIED: | Level Grove Cemetery, Cornelia, Habersham County, Georgia 1 2 17 31 |
| PARENTS: | Nancy E. Williams and Abraham Jones 1 2 7 8 |
| OCCUPATION: | Architect. Worked on the Candler Building in Atlanta, Georgia. Worked on the old Railroad Building in Atlanta (now razed). Worked on a Baptist Church in Atlanta. His name is on the corner stone. 1 2 The 1920 census lists him as a carpenter for a construction company. 12 |
| MARRIAGE: | Florence Eliza Hardy (1870-1934) in December 1889 in Tiger, Rabun County, Georgia. 1 2 3 12 17 |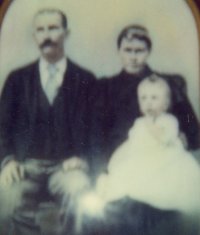 This picture may have been taken in either 1892 or 1895 when the child could have been Leonidas or Walter. After that, there would have been more than one child who would have possibly been in the picture, also.
This picture is a photo of the framed photograph. It may have been taken by Joe Jones.
I do not know where the original is located.
CHILDREN
NAME
BORN
DIED
SPOUSE
NUMBER OF CHILDREN
NOTES
Leonidas Martin JONES 3
Sep. 9, 1891 3 17
May 23 or 29, 1893 3 17
Walter Dee JONES
July 31, 1894
1955
Mary Greer
5
Mattie Ethel JONES
Oct. 21, 1896
Jan. 29, 1987
George HAYS
3
William Abraham JONES
Oct. 6, 1899
Dec. 29, 1925
Gertrude West
1
Henry Ross JONES
May 27, 1902
Nov. 25, 1976
Clarice Spake
2
Annie Belle JONES
Apr. 7, 1904
Sep. 15, 1988
Luther Tillman PITTS
2
Barney Randall JONES
Sep. 25, 1906
Mar. 26, 1936
Alice ?
*Joe Fred JONES
July 12, 1909
Jan. 13, 1994
Jessie Perry

---

Ruth C. Harris Jordan
3

---

Roy Howard JONES
June 26, 1912
Dec. 2, 1997
Marie Lutheran Preston
2
| | |
| --- | --- |
| RESIDENCES: | Rabun County, Georgia 1868-1889 1 3 7 8 |
| | Abeville County, South Carolina in 1894 3 |
| | Greenwood County, South Carolina in 1896 3 |
| | Habersham County, Georgia in 1899 3 |
| | Hall County, Georgia in 1902, 1904 3 |
| | Fulton County, Georgia in 1906-1924; 198 Jett St. in 1920 3 12 |
| | |
| --- | --- |
| NOTES: | He taught Sunday school. 1 |
| | He did not drink and did not allow any liquor in his own household. 1 |
| | |
| --- | --- |
| SOURCES: | 1 Joe Jones |
| | 2 Joanne Thornton |
| | 3 Jones Family Bible |
| | 7 1870 Census - Rabun County, Georgia |
| | 8 1880 Census - Rabun County, Georgia |
| | 9 1900 Census - Habersham County, Georgia |
| | 12 1920 Census Georgia |
| | 17 Level Grove Baptist Church Cemetery, Cornelia, Habersham County, Georgia From Genweb |
| | 22 1924 Death Certificate of William N. Jones from Georgia Virtual Vault |
| | 31 Find-a-Grave -William Nathan Jones, Level Grove Cemetery, Cornelia, Habersham County, GA |
---